November 1, 2023
Dr. Bhavesh Doshi
Duodenal Atresia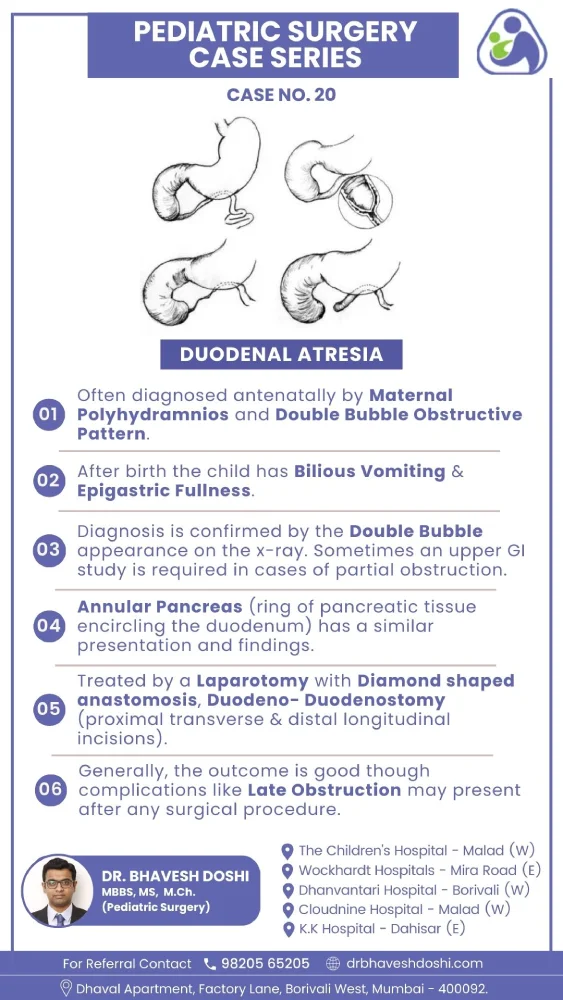 Case No. 20: Duodenal Atresia
Often diagnosed antenatally by Maternal Polyhydramnios and Double Bubble Obstructive Pattern.
After birth, the child has Bilious Vomiting & Epigastric Fullness.
Diagnosis is confirmed by the Double Bubble appearance on the x-ray. Sometimes an upper GI study is required in cases of partial obstruction.
Annular Pancreas (ring of pancreatic tissue encircling the duodenum) has a similar presentation and findings.
Treated by a Laparotomy with Diamond shaped anastomosis, Duodeno- Duodenostomy (proximal transverse & distal longitudinal incisions).
Generally, the outcome is good though complications like Late Obstruction may present after any surgical procedure.