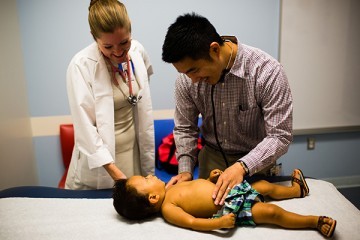 GASTROINTESTINAL SURGERY
---
Hirschsprung's disease is a condition requiring a thorough evaluation to confirm the diagnosis and timely intervention.
Constipation is a common complaint in children requires which thorough history taking, proper toilet training, and diet counseling. Else it may lead to surgical conditions like a rectal polyp.
Intussusception if diagnosed in time can be treated with hydrostatic enema avoiding the need for surgery and complications like perforation and gangrene of intestine.
The timing and technique of performing a Herniotomy of a congenital hernia and hydrocele are different as compared to adults.
Meckels diverticulum is another condition having various presentations requiring a more suspicious outlook and prompt action. Alimentary tract duplication is a condition that requires treatment in early childhood.
Dr. Bhavesh Doshi is a General, Laparoscopic, and Pediatric surgeon in Mumbai, and he experienced a doctor in Pediatric Gastrointestinal surgery. For more details book an appointment or call: 9820565205
Read More Treatments:
Counselling for Antenatal Detected Anomalies | Pediatric Trauma, Injuries & Burns | Pediatric Neurosurgery | Constipation Clinic | Intussusception