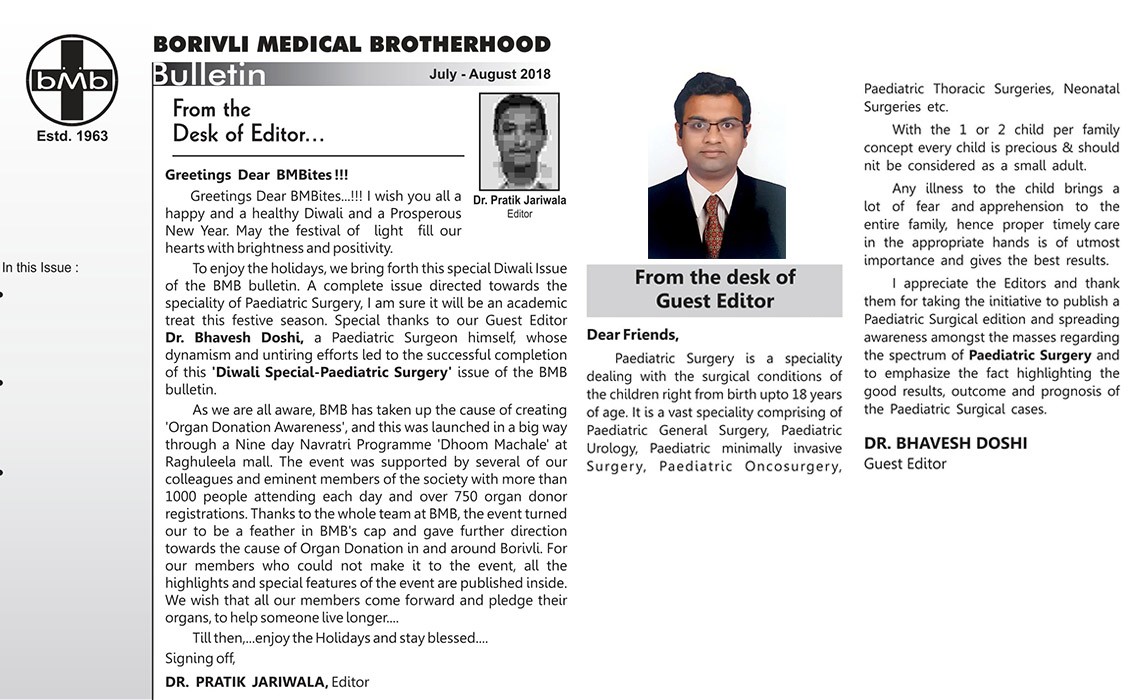 Guest editor for BMB bulletin, a leading Medical Practitioners magazine in Mumbai
---
Successful Operation
A critical 3 hour operation, successfully performed by Dr. Bhavesh Doshi & team, free of cost on a 2-year-old underprivileged child from Khandva, near Indore, Madhya Pradesh.
Patient Education Section
Understanding Urethrocutaneous Fistula in Children | Dr. Bhavesh Doshi
In this informative video, join pediatric surgeon Dr. Bhavesh Doshi as he unravels the mysteries of Urethrocutaneous Fistula, a common complication that can occur after hypospadias surgery.
Discover the ins and outs of Urethrocutaneous Fistula as Dr. Doshi explains its causes & occurrence as a complication post-surgery. Gain a comprehensive understanding of the surgical treatment process, as he guides you through the optimal timing for closure and the techniques employed to ensure a successful repair.
---
Tongue-Tie: What It Is and How It's Treated
In this informative video, Dr. Bhavesh Doshi, a renowned Pediatric Surgeon in Mumbai, sheds light on tongue tie, a common condition that affects children. He explains how tongue tie can lead to delayed speech or slurring of speech due to the inability to protrude the tongue beyond a particular part of the mouth, and how this condition can be corrected through a simple surgical procedure using a Bipolar Cautery device. Dr. Doshi emphasizes that the surgery should be performed at around 8 to 10 months of age when the child is learning to speak, and that older children may require speech therapy for complete correction of their speech. With over a decade of experience in the field, Dr. Doshi's expertise in pediatric surgery and his passion for educating people about common childhood conditions make this video a must-watch for parents and caregivers.
---
Understanding & Treating Thermal Burns in Children
In this informative video, Dr. Bhavesh Doshi, a renowned pediatric surgeon based in Mumbai, discusses the management of thermal burns in children.
Thermal burns are common in children due to spillage of hot fluids, and it's crucial to take care of the child's nutrition and wound care to ensure faster and better recovery. Dr. Doshi recommends supplementing the child's diet with high amounts of proteins and using collagen dressing for wound care.
Collagen dressing is a thin film that sticks over the burnt surface of the wound and falls off by itself as the wound heals from within. It's a one-time application that doesn't require any second sitting or removal, and it's the gold standard in burn dressing treatment.
---
Infantile Hypertrophic Pyloric Stenosis – Causes, Symptoms, and Treatment
In this informative video, Dr. Bhavesh Doshi, a consultant pediatric surgeon in Mumbai, explains Infantile Hypertrophic Pyloric Stenosis, a condition that affects infants in their early weeks of life. Dr. Doshi describes the causes and symptoms of the condition, including excessive vomiting, weight loss, and electrolyte imbalance. He also explains how the condition is diagnosed using sonography and treated with a surgical procedure called Ramstedt Pyloromyotomy. Watch this video to learn more about Infantile Hypertrophic Pyloric Stenosis and how it can be effectively treated. If you have any further queries, please contact Dr. Doshi using the provided details.
---
Appendicitis in Children Symptoms & Treatment
Does your child suffer from regular stomach pain? Are you worried and confused about what to do? Do you know it could be appendicitis. Watch Dr. Bhavesh Doshi (pediatrician, general & laparoscopic surgeon), Dhanvantari Hospital explain appendicitis in children. The main symptoms and techniques to treat Appendicitis.
---
Intussusception in Children, All you need to know by Dr. Bhavesh Doshi
Intussusception in Children, All you need to know by Dr. Bhavesh Doshi, Pediatric surgeon in Mumbai Intussusceptions a paediatric emergency explained in simple language by Dr. Bhavesh Doshi. Lump felt in the abdomen or severe abdominal pain with passage of stool mixed with blood and mucus are the commonest presenting features of intussusception.
---
What is Undescended Testis?
Undescended Testis (UDT) appear in about 1 percent of males and is also more commonly seen in premature infants than in those who are full term. Dr.Bhavesh Doshi, the pediatric surgeon urologist in Mumbai, discusses the symptoms and the treatment for this condition.
---
Testimonials