November 1, 2023
Dr. Bhavesh Doshi
Anorectal Malformation in Females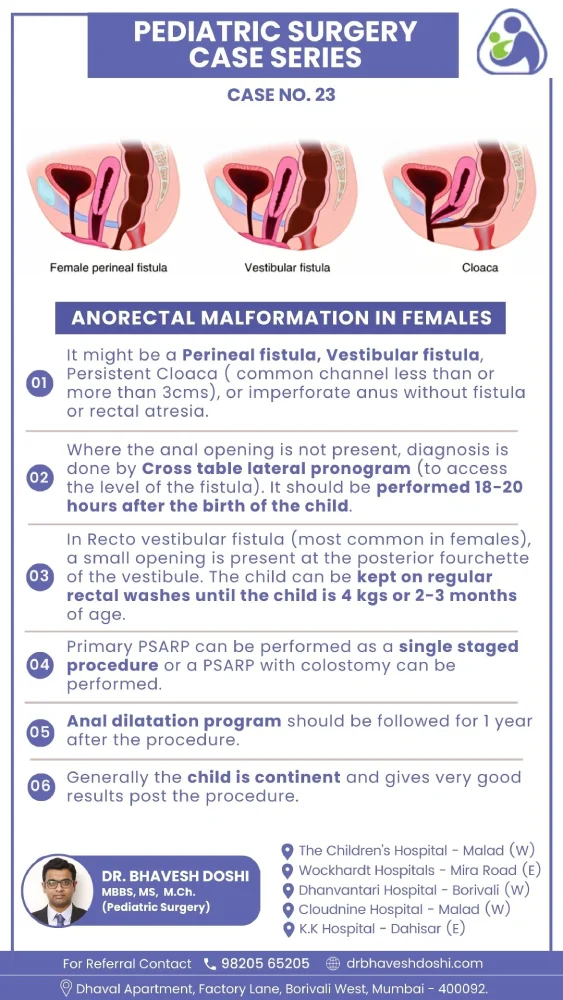 Case No. 23: Anorectal Malformation in Females
It might be a Perineal fistula, Vestibular fistula, Persistent Cloaca ( common channel less than or more than 3cms), or imperforate anus without fistula or rectal atresia.
Where the anal opening is not present, diagnosis is done by Cross table lateral pronogram (to access the level of the fistula). It should be performed 18-20 hours after the birth of the child.
In Recto vestibular fistula (most common in females), a small opening is present at the posterior fourchette of the vestibule. The child can be kept on regular rectal washes until the child is 4 kgs or 2-3 months of age.
Primary PSARP can be performed as a single staged procedure or a PSARP with colostomy can be performed.
Anal dilatation program should be followed for 1 year after the procedure.
Generally, the child is continent and gives very good results post the procedure.